Superior Scoping
Completely eliminate the outdated, analog RFP and define precise deliverables for each of your projects using our dynamic Smart Brief™.
Precise Matching
Receive a curated short list of qualified providers for your project needs in mere days.
Comparative Evaluation
Compare customized project proposals side-by-side from your existing suppliers and our network of qualified providers.
Improved Selection
Increased specificity in scoping and matching helps your team make a clear selection of the best provider for each specific project.
Easier Collaboration
Real-time project management and collaboration dramatically increases efficiency.
Integrated Feedback
Feedback is built right into our process, so provider ratings and details are always accurate, and ready to meet your standards for excellence.
Trackable Invoicing
Increase spend transparency across every project your company scopes on the Platform.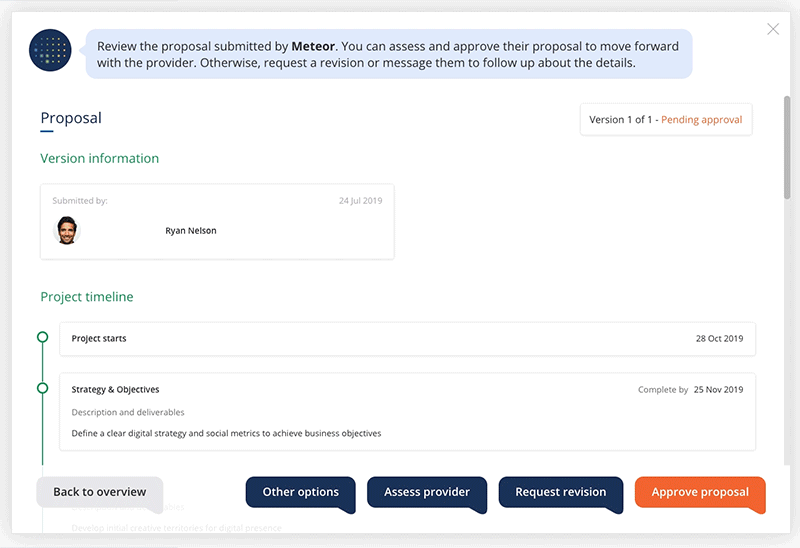 Your success is our success, and we go to great lengths to constantly improve your experience on the Globality Platform. Here are a few ways that we help support your company.
---
Seamless Integration
Adopting the Globality Platform for your sourcing needs is easy, and can work alongside other software you already use.
Provider Support
Our provider support team is dedicated to finding, evaluating, and onboarding new providers into our network. Additionally, they assist your existing suppliers as they become familiar with the Globality Platform.