New innovations are being developed every day, powered by AI and other leading technologies. While it can be difficult to keep up with what's state-of-the-art, and to separate the flash-in-the-pan tech from the tech that is truly revolutionary, one thing is certain: Traditional solutions cannot deliver the expected speed, efficiency, and results on their own without newer innovative platforms.
As technology becomes more complex, IT must leverage systems that are intuitive, user-friendly, and speak to the specific requirements of different departments. While one system may be right for one team, it likely won't be the best choice for another. Rather than rely on an outdated one-size-fits-all solution that doesn't yield results, best-of-breed AI procurement technology can ensure that businesses see greater value.
Globality's Keith Hausmann explains: "End-to-end platforms pieced together with acquisitions of varied solutions tend to lose their innovative edge and focus, whereas built-for-purpose solutions are nimble and bold enough to unlock greater value."

Many IT departments know this, but they are slow to adapt due to fears of failed integrations. As a result, they stick with what they know. But without robust, consumer-like procurement processes and approaches, including the untapped area of strategic service spend and supplier management, IT cannot succeed.

With Globality's prescriptive methodology and flexible infrastructure integrations can take weeks, rather than months. Globality simplifies integrations, importing only the required master data for necessary validations, reducing dependency between platforms. Well-designed and optimized Standard connectors offered by Globality supports common business processes and systems, accelerating the pace of implementation without compromising necessary flexibility of customer configurations.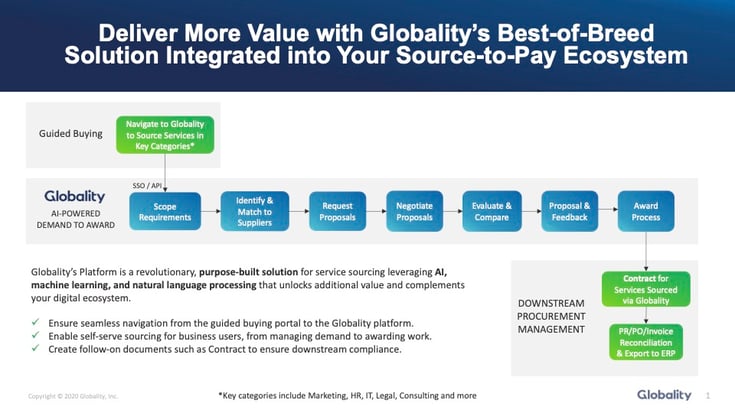 For highly customized or uncommon business processes, Globality offers a comprehensive set of Public APIs providing access to business-critical data in an efficient manner, leveraging technology like Webhooks. "We are in the business of making integration simple, productive & delightful for the digital procurement ecosystem of the future" explains Mangesh Phadke, VP of Digital Ecosystem at Globality.
AI-powered sourcing provides a frictionless and compliant environment for procurement and business users. Globality's AI technology complements existing systems, and key API integrations can ensure different systems are speaking to each other to avoid over-complexity. This empowers the digital procurement ecosystem of the future by enabling enterprises to reshape sourcing, introduce sourcing autonomy, and enable a seamless source-to-pay user experience. The benefits are overwhelming:
Seamless entry into Globality from buying portal like Ariba Guided Buying via SSO

Automation of project creation in Globality post triaging via inbound Public API seeding with key information driving user journey on the platform

Self-serve sourcing for business users, from managing demand to awarding work

Elimination of manual downstream procurement activities by easily connecting Globality's Platform to SAP Ariba and Fieldglass with enterprise-class extensions validated by SAP

Streamlining Contract creation in CLM solution of customer choice transferring rich set of information captured during sourcing process on Globality Platform
Many Globality clients have already benefited. Santander Group Company, Aquanima is one such customer who has optimized its procurement process by combining its core SAP Ariba system with Globality's platform, resulting in faster, more effective, and more informed sourcing decisions.
Ultimately, technology must meet the unique needs of different spend categories, satisfy and empower internal stakeholders, and support complex analytical requirements. Only a best-of-breed procurement ecosystem that is oriented around user experience, data and analytics can support your organization's continued evolution.
Learn how Globality seamlessly connects to a preexisting procurement workflow.