No one is better positioned to drive disruptive change and lead the reinvention of the enterprise than procurement. To thrive in the "next normal," an increasing number of procurement leaders are challenging the status quo, embracing transformational innovation, and taking bold action to deliver new sources of value and accelerate growth at their companies.
Last week for Art of Procurement (AOP)'s Mastermind LIVE virtual event, I joined Chris Sawchuk, principal and global procurement advisory practice leader at the Hackett Group, to discuss how procurement has become a catalyst for disruptive innovation by applying emerging technologies.
AOP Founder Philip Ideson opened the session by asking participants which word best describes their experience as a procurement leader over the previous seven months.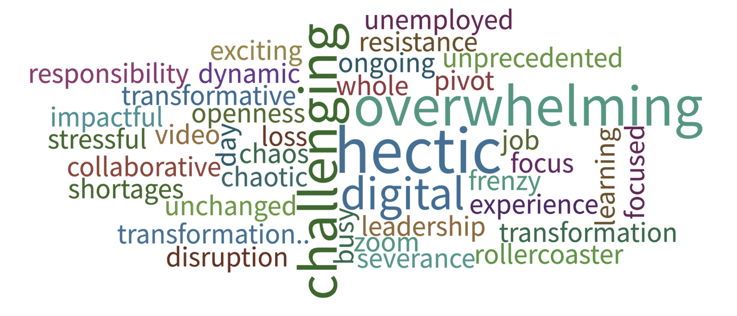 The group response confirmed that although this year presented unprecedented challenges, there is also optimism about the opportunity that lies ahead. Change that has been underway for the past 10 years was suddenly accelerated over the past seven months, resulting in completely different requirements for our profession. More than ever, procurement needs to be able to deliver value to the business—bringing their stakeholders closer and transforming how companies buy and sell services and goods across the value chain.
The following are a few key takeaways that resonated with me from the session:
"Procurement needs to expand what we are doing, and we have a lot of wind at our back because of the pandemic. But we need to understand our value through the eyes of our customer."—Chris Sawchuk, Hackett Group.
There is a strong, evolving notion that procurement leaders sit at the hub of a vast ecosystem of stakeholders, with more of us starting to think about how to utilize this sphere of influence. By thinking about all relationships differently, procurement can gain a competitive advantage unique to this role. Agility is critical, as is investment in being able to predict where procurement needs to be next. The old operating models of category management, sourcing, and transaction processing are no longer agile enough for today's dynamic business environment.
Three-sixty-degree relationship management is a critical requirement. Skill and advantage can be gained by approaching the supply base as truly strategic partners whom you buy from, sell to, and innovate with and who are therefore incentivized to share in your success. The closer we are to our key suppliers, the more value everyone gets out of the relationship. It works both ways. Why wouldn't procurement want a supplier to also be a customer?
As Chris emphasized, procurement needs to drive customer value. "One way to create a more customer-centric and agile procurement model is to create flexible customer-centric teams that form and 'disband' in response to business needs."
Procurement can function more like a "sales force" that actively manages "accounts" within the business. This approach should emphasize responsiveness; it doesn't take months, weeks, or days to do anything in our consumer lives. We must reinvent corporate procurement to be equally agile.
As Salesforce.com CEO Marc Benioff says, "You've gotta get out of paralysis and into participation! You have to become relevant!"
Now is not a time to be paralyzed but to act on digital transformation that completely changes what we do. Today's transformational CPOs are leading their teams to reimagine what is possible while driving new sources of value for their companies and stakeholders.
To view the full panel session, click here.
***********************
Keith Hausmann is Chief Revenue Officer at Globality.