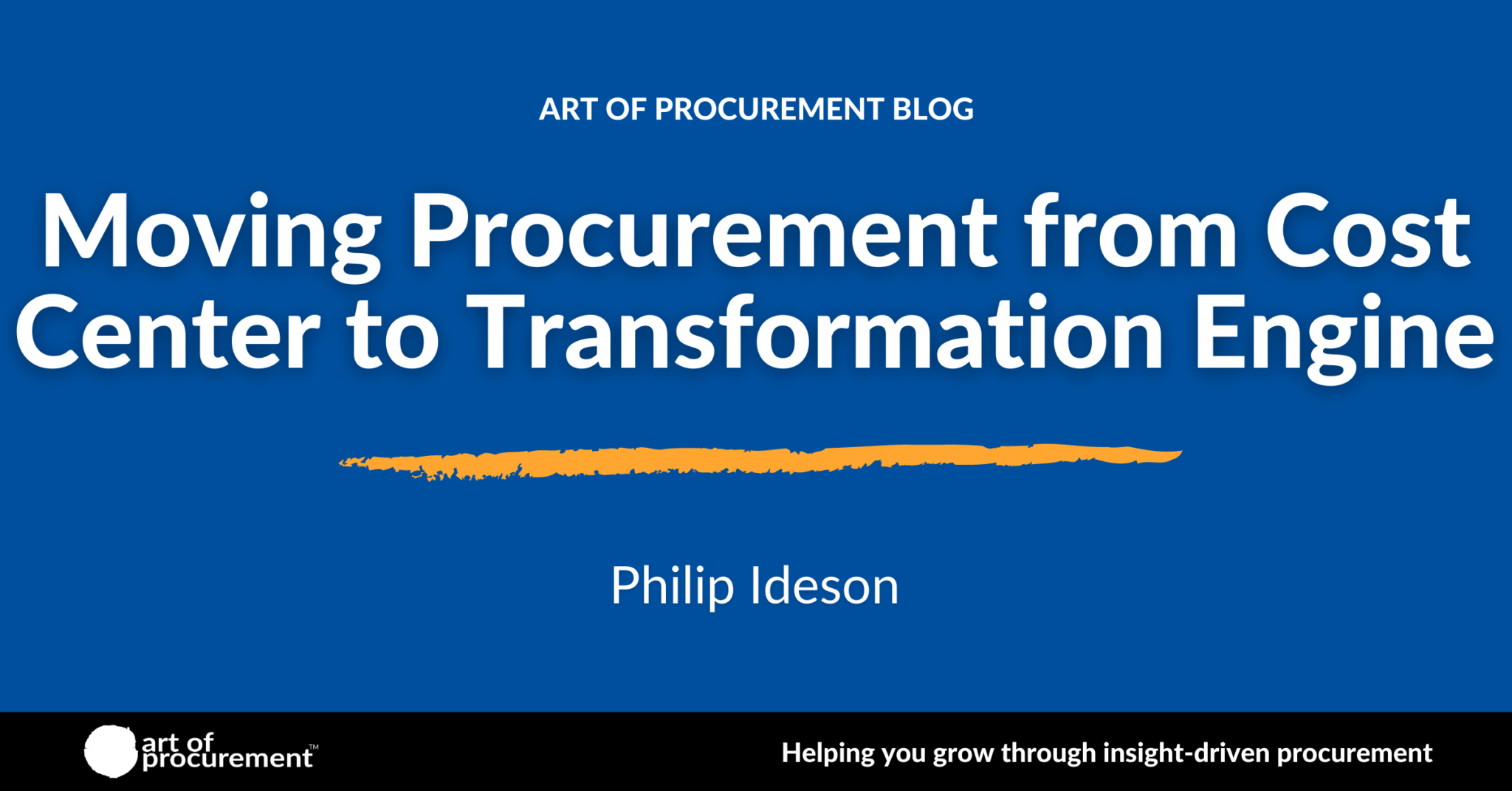 What is the one thing that unites procurement teams right now, regardless of industry, size, or maturity level? It is the need to drive enterprise growth. That fact has been abundantly clear in the executive-level conversations I have participated in so far this year. Shifting procurement's attention to the top line requires quite a few changes from Chief Procurement Officers—not the least of which is pinpointing a clear focus on the horizon.
To be "future-focused," transformative procurement leaders must move beyond cost savings and continually look for ways to improve speed to market, diversity, sustainability, efficiency, efficacy, and the stakeholder experience. These are the factors that will enable transformative CPOs to drive top-line growth.
To better understand how CPOs perceive what this moment in time is asking of them, Art of Procurement recently co-hosted an executive roundtable with the Globality team. We explored some of the key topics that arose during our recent AOP Mastermind LIVE Spring event. All the CPOs who joined us are continuously managing the balance between running the business and driving long-term growth, and the discussion zeroed in on different ways that procurement leaders are revisiting their operating models and creating new sources of value for their companies and stakeholders.
As Globality Chief Revenue Officer Keith Hausmann pointed out, "Procurement has long talked about the notion of having 'a seat at the table.' The problem with that idea today is that there is more than one 'table,' whether it is diversity, balance of trade, sustainability, etc. There are far more tables than we have procurement people, so how do we get to those tables, and how do we redefine what is discussed in terms of value at that table?"
The CPOs who joined our roundtable discussed six ways to manage this balance and drive growth for their companies.
Procurement has long talked about having 'a seat at the table.' The problem today is, there is more than one 'table,' …diversity, balance of trade, sustainability… There are far more tables than we have procurement people. How do bring value to those tables?"
Keith Hausmann
Chief Revenue Officer, Globality
Shift the focus to growth
Time is the only resource we can never get more of, and every business issue is now approached with a level of urgency that demands fast access to information and quick decision-making. While accepting that CPOs can't create more time, the group agreed that they can reallocate procurement resources to focus more on growth-oriented tasks. To do so, they must improve efficiency and automate repetitive manual tasks by leveraging technology and enhancing the user experience for internal stakeholders and strategic suppliers. Ultimately, technology can run processes and ensure compliance, whereas only people can build relationships and connect on a deeper, strategic level to solve big business problems or opportunities.
Empower stakeholders to drive that growth
Participants highlighted that if procurement can meet the business on their terms, then everyone's needs will be met with less friction. The group discussed self-service models with consumer-like interfaces as a key tool in increasing stakeholder engagement while freeing up procurement to be strategic and focus on higher-value tasks. If procurement can empower the business while maintaining visibility into its spending activity, that lays a solid foundation on which to build tangible benefits for the wider business.
Prioritize talent diversity to spark innovation
Whether it's building new procurement teams by hiring talent from different backgrounds or expanding a company's supplier base, the CPOs agreed that diversity drives innovation and is proven to positively affect an organization's bottom line. They noted that there is no single identity for today's procurement specialist; instead, a CPO needs to bring together people with varying skill sets, including non-procurement backgrounds, and assign them where they can have the greatest impact.
Transform procurement's value proposition
As the expectations companies have of their procurement teams shift, the group agreed that procurement must revisit its internal value proposition and place a new focus on customer-centricity. It must be absolutely clear what the function's purpose is and what value it brings to the work it does. For example, does procurement replace its business partners' domain expertise, or does it focus on streamlining the process or building new capabilities such as gathering market intelligence, driving co-innovation, and guiding the organization through change? Being clear on the new value proposition and articulating it to stakeholders will improve understanding and the productivity of collaborative relationships, helping maximize impact across the business.
Set new KPIs for procurement
Participants talked about taking an innovative approach to this new way of thinking about the procurement function—one that is no longer a cost center but instead is charged with delivering growth. Making procurement's existing KPIs table stakes, transformative leaders are instead focusing on highlighting the new strategic, high-value projects that will earn them the much talked-about seat at the table. And they can even go so far as to redefine what is discussed at that table, helping set the agenda around diversity, sustainability, ecosystem management and other key topics that are a focus at the board and shareholder levels. CPOs in our discussion shared their successes in bringing new KPIs to the fore.
Choose the right new technologies
Procurement has a wide scope and a range of technologies at their disposal, so they are not facing the challenges of the present moment empty handed. Several participants highlighted that now is the time to challenge the status quo and find the best-fit technologies and platforms that will really solve the key problems their stakeholders face. The group concluded by agreeing that identifying and adopting the right solutions will help deliver the required agility to sustainably drive new value and growth across the business.
The participants in this roundtable represent large global organizations across a broad range of industries – from technology to manufacturing and pharma to professional services. Even with this diversity of experiences, all agreed that growth enablement has become a key value lever for procurement, and that their organizations are looking for procurement to proactively expand the range of their impact.