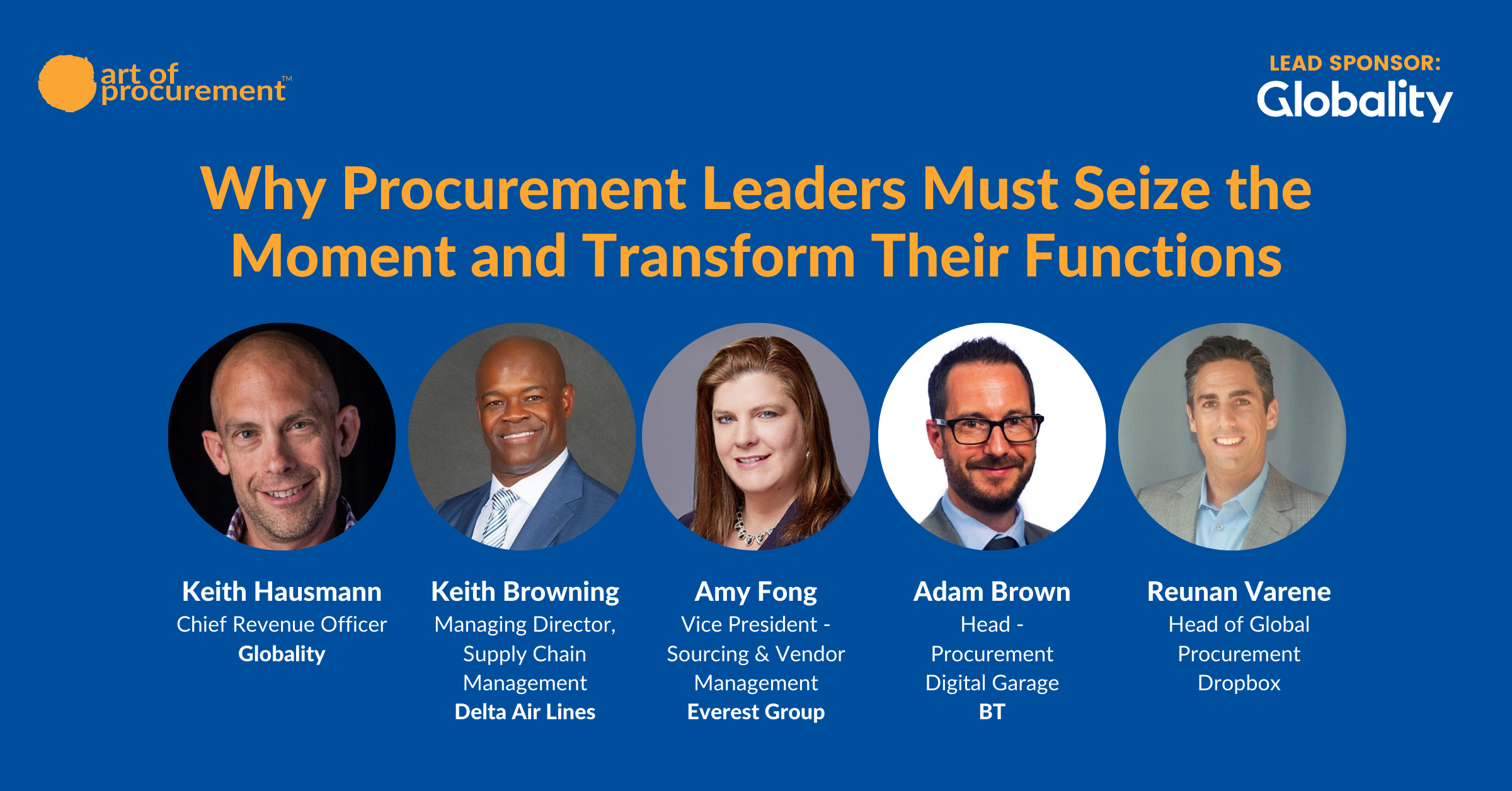 The past year has forced procurement leaders around the world to reimagine the way procurement works and will work going forward.
At Art of Procurement's 2021 Mastermind LIVE Event, Philip Ideson brought together a panel of visionary procurement leaders to discuss the urgency of the present moment and what can and should be done to support corporate growth.
This session focused on procurement's sense of urgency in pursuing a growth strategy, the need for supplier collaboration and mutually beneficial third-party relationships, and the strategies and technology that will empower procurement to scale.
Topics included:
Defining growth – in terms of both developing procurement's capabilities and how that empowers procurement's contribution to the business top line

Ways procurement can better communicate and demonstrate their top-line, value-oriented investments to the rest of the business

The absolute criticality of partnering with suppliers, while seeing them as current customers, potential customers, and sources of differentiation and market expertise
Watch the video below and listen to the podcast here: https://artofprocurement.com/episode390/
The panel included:
Adam Brown

, Senior Manager of Procurement Transformation & Head of the Procurement Garage at BT

Amy Fong

, Vice President, Sourcing and Vendor Management for Everest Group

Keith Browning

, Managing Director, Supply Chain Management at Delta Air Lines

Keith Hausmann

, Globality's Chief Revenue Officer

Reunan Varene

, Global Head of Procurement at Dropbox
We have processes and we have technology, but at the end of the day, it's about relationships. We have our stakeholders and our supplier partners, and the goal is to make their jobs easier, to make it more efficient for them to be able to do their jobs and add value."
Keith Browning
Managing Director, Supply Chain Management, Delta Air Lines